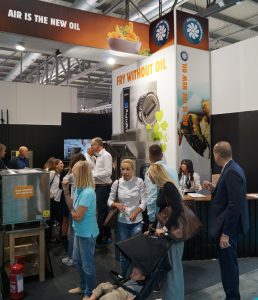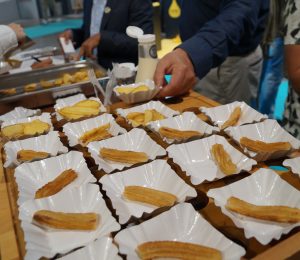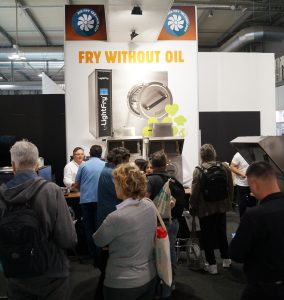 October 24th 2023:
The HOST Show, in Milan – Italy, is the go-to fair for any kind of restaurant equipment as well as the absolute leader in Hotel, Restaurant and Catering, the HoReCa business.
This edition, the 43rd of the HOST Show had more than 2,000 exhibitors from 50 countries occupied almost the entire and very extensive exhibition area with a center street connecting all halls with a length of almost 2 km. More than 180.000 professional visitors, including the international exhibitors adds up to a total of 166 countries that did meet up for new business opportunities. Many see this as a great opportunity to do 'world-to-world' business. The HOST Show is truly an arena for global business.
As an exhibitor at the HOST Show Eatgood Sweden AB as a company continues an unforgettable journey towards Healthier and Better food for the mass markets with Lightfry and Air Fry Technology for commercial use. Our booth was a very vibrant one with activities attracting a diverse and enthusiastic audience showing an increased level of interest of Lightfry equipment and Air Fry Technology in general. Visitors from various corners of the world stopped by in the Lightfry booth and their curiosity was triggered by the prospects of commercial air frying. The event gave us the perfect stage to showcase our Lightfry Cooking System, providing technical insights and to demonstrate the Lightfry unit, our commercial air fryer and its capabilities coming to width and versatility regarding cooking many different food produce from fresh to frozen, from veggies to meat. Visitors not only learned about our technology but also indulged in food tasting sessions, relishing the delightful samples prepared using Lightfry.
Eatgood Sweden made the 4th HOST Show, first one in 2017, and we can really see the difference in attitude and interest of the Lightfry Cooking System and Air Fry Technology in general. Having end users, restaurant owners, chefs and distributors of restaurant equipment telling us where the market is going, when it comes to fried food, and that is towards commercial air frying and Lightfry. That's a significant shift in the market which is really a huge step forward.
The HOST Show was very positive for Lightfry. We are coming back from the show with a lot of opportunities. Our presence generated a significant amount of interest and business opportunities. We left the event with hundreds of leads to follow up on, a clear indicator that underscores the market's interest and potential in commercial air frying for restaurants, commercial and professional kitchens.
Lightfry's commitment to innovation, quality, and excellence in the commercial air frying market is unwavering. The reception at the HOST Show 2023 continued to affirm our strong belief in the potential of the Lightfry product range in the global market and the interest it generates.