Trade shows and the right distribution channels
We have gotten good response from the last couple of trade shows that we have exhibit, the last one being HOST show in Milan.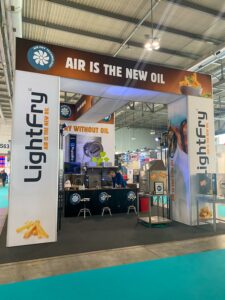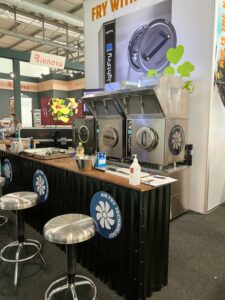 From the HOST fair, we collected 230 leads to bring home, from end users to large chain customers and distributors, despite the fact that the number of visitors was only 33% of the number compared to 2019. For Eatgood's part, we will continue to work hard to find the right distributors and resellers who are good representatives of Lightfry as a brand and who can reach out to each market.
On November 17, we attended a webinar called ENSE group togheter with British distributor Valentine & Cuisinequip. The ENSE group consists of 80 retailers in the UK, 100% focus was on Lightfry. It is very good that Eatgood has opened up the British market as a great complement to the USA.
Other aspescts that point to Lightfry and Air Fry Technology:
Energy prices are rising
Lightfry has very low energy consumption, eg only 1kW at standby temp of 220 °
No risk of oil fire
Enables installation almost anywhere with a ventless hood that does not need to be connected to an external and permanently installed ventilation system
No logistics of oils
No need to send used oil for recycling and destruction
Healthier and better food is on the rise globally
Sustainability is important today for basically all companies, especially major players
Thanks to air fryers for home use, Air Fry Technology is well known and no wonder today
Creates opportunities for new concepts or to develop with complementary dishes in existing concepts
Supplementation of more air-fried products if a ventilation system does not have more capacity for additional oil fryers in existing systems
Reduction of risk of occupational injuries in combination with hot oil
No handling of hot oil
Also works with installations in moving units such as ships etc in the marine environment
Manufacturers of food normally for oil frying are increasing their investment in products for air fryers
Ease of use
No waiting time between batches being processed, such as to allow the oil to recover and reach the correct temperature of the oil, as when frying in oil
Integrated cleaning system for easy handling
Reduced costs for sweeping in and out of restaurant premises
Longer and better serviceability compared to oil-fried in terms of crispiness and taste
Prerequisite for production
Being able to deliver today in a complex market, in general, with shortages of components, materials and raw materials hits high. In this aspect Lightfry sticks its chin out and delivers a smaller number of units within 10 working days and slightly larger orders in 4 -6 weeks. This is in contrast to many other suppliers who deliver in 4-6 months at best. To have foresight regarding deliveries of components and constituent materials for production, and to have this as a philosophy with a sufficient stock of components to be able to produce without ordering components for each order that comes in, creates freedom and opportunity where the company can control production itself. We also have the advantage of not relying on any component supply from the Far East in principle at all, which has made us considerably less vulnerable both in terms of deliveries but also in the rampant shipping costs.
The market is catching up with Lightfry
There are many aspects that today drive the market towards Air Fry Technology with benefits such as sustainability, economic benefits, energy efficiency, increased installation possibilities and increased taste and product qualities create security for very bright futures. It is not Eatgood and Lightfry that create the change in the market, it is the market itself that drives the change towards Lightfry which makes an investment much more advantageous for the industry's players. "The market is more mature than ever and we look forward to new collaborations with various players in the market, with interest and curiosity of new opportunities through process technology with a focus on sustainability, healthier and better food, as well as safety in their restaurant kitchens – the change has only just begun ! " – says Henrik Önnermark, CEO of Eatgood Sweden AB